Are You Taking a Summer Vacation and Travelling?
"Ergonomics" may be a term you associate with the office, but it's just as relevant at home, on the road, and while travelling in far off destinations. That's because ergonomics is all about how you're interacting with your environment, regardless of whether that environment consists of a Keyboard and a cubicle, your sleeping position while travelling in the car, your summer footwear, or your choice of lawn chair. As these examples imply, this is all the more true when travelling on a summer vacation, which may challenge the workaday routines to which your body has become so accustomed.
How can you ensure your summer vacation is as comfortable and as injury-free as it is fun? Let's take a look at the top tips for keeping it ergonomic and comfortable this summer.
1. The Ergonomics of Driving
Low back pain is a common complaint when driving long distances but it's not the only complaint. Neck, leg and arm discomfort can also happen if you're not positioned properly and taking regular breaks.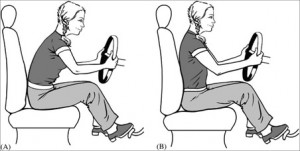 Here are some positioning tips that should help prevent the discomfort of a long drive:
•Make sure the seat you're sitting in is supportive. The seat back should be positioned slightly backwards and the bottom seat should be angled slightly upward. You will feel as if you are angled back slightly. This will take pressure off your back, hips, neck and upper back! Your headrest should be positioned behind your head. Questions? Ask Dr. Barbara Rodwin, dr.rodwin@back2health4you.com. Take pictures of yourself in your car seat and send them to Dr. Rodwin to review.
• Your seat should be positioned so that your legs are supported as well. If your seat is too far forward your thighs will be up off the seat and if you're too far forward you'll have to stretch to
reach the pedals.
• Lumbar support is also important on a long drive. The low back muscles can become fatigued if the lumbar region is unsupported causing low back pain. If the car you're driving doesn't have good lumbar support you can get a back rest with lumbar support or roll up a towel/T-shirt and tuck it behind your lower back.
• The seat belt should be adjusted so that it is going over your shoulder. It should not rub on your neck and you should never tuck it under your arm.
• Distance from the steering wheel is another important positioning consideration. You should be close enough that your arms are slightly bent at the elbow. Try to vary your hand placement on the steering wheel during a long drive, move the hands around.
• Important Tip: Many patients when placing their right foot on the gas pedal will turn their foot/leg/hip outwards to reach the gas pedal. This then causes foot, knee, hip, and lower back problems to arise. Please just bring your leg over the put the foot on the gas pedal sideways and not ROTATING!
DO NOT reach into the back seat of the car or over to the passenger seat to get your bag, aid children, etc. This causes injuries to the neck, shoulders, and upper back.
• Many things in a car are adjustable such as the seat, steering wheel positioning and seatbelt height. Take the time to make the adjustments before you leave and remember to take breaks about every two hours in order to have a good stretch and to reduce fatigue.
• Take the time to make sure you're comfortable from the moment you set off on your trip. The smallest irritant in the beginning of your trip can turn into raging pain later. Don't have your wallet, cell phone, or anything else in your back pocket, as that may throw your spine out of alignment.
• A large Acuball can also be used while driving long distances in order to decrease back pain and discomfort. You can use it behind your back, under your hamstrings, move it up and down your spine, around your hips, sit on it, and more!
2. Get Out and Move Around
• Your spine is designed to move. Sitting in one position in a car will stiffen up your back muscles and can lead to achiness and possibly muscle spasm. If possible, plan ahead for to schedule stops—ideally every 2 hours—and get out of the car so you can move around and stretch. Movement stimulates blood circulation, which brings nutrients and oxygen to your lower back.
• In between exercise stops, try to move a little in your seat. Even 10 seconds of movement and stretching is better than sitting still. At a minimum adjust your seat and change your position slightly every 15 to 20 minutes. Pump your ankles to keep the blood flowing and provide a slight stretch in your hamstring muscles. Any movement that is safe to do in the car will help you out.
• If you are the driver and have cruise in the vehicle you are driving, place the vehicle on cruise and move your legs around.
3. Bring Along a Cold Pack
If you have back pain, it may be a good idea to bring an ice pack or cold pack along in the car with you. Most back pain is accompanied by inflammation. Applying a cold pack can reduce the inflammation and numb sore tissues. Please remember to always use a towel or another protective barrier to avoid ice burn.
Here are some options:
• Bring a cooler in the car with you and keep reusable ice packs in it, or make your own ice
pack and bring it along.
• Use ice cubes in a Ziploc bag, double the bags up to avoid the water leaking on you.
• Use Biofreeze: This is a product we sell at the clinic to aid in icing. You can roll it on, spray it on or rub it on. Ask Dr. Barbara Rodwin for a free sample pack to try!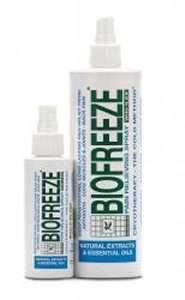 4.  Sleeping in the car
It's important to support your head and neck while sleeping in the car. Ideally, using a travel pillow, the type that contours around your neck, would be best. Otherwise, rolling up a towel or article of clothing and placing it behind your neck will offer added support.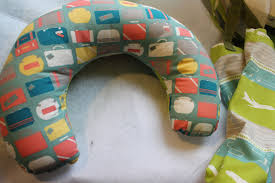 Sleeping in Other Beds
When sleeping in other beds the mattress can be too hard sometimes. Just ask for extra blankets to cushion the hard mattress and this can prevent you from having lower back discomfort in the morning.
You should try to travel with your own pillow. If you are unable to do this then check the pillow to ensure it is the right height and softness for you. If the pillow is too low then take a towel and place it under the pillow raise it up to your height, if it is too high ask for a different pillow. If it is too soft again ask for a different pillow. You can also just roll up a towel and sleep with this.
If you have any questions regarding your travelling feel free to ask Dr. Barbara Rodwin for advice on travelling.
You can email Dr. Rodwin at: dr.rodwin@back2health4you.com
Gather Your Ergonomic Beach Equipment
All winter, you dreamt about lying out on a beach towel, baking in the summer sun. But not only is this vision enough to give your dermatologist a heart attack, it's also not a great vision for your ergonomist, either. Sand, despite all appearance, is hard and lumpy, and on its own, it won't provide nearly enough support for your neck and back. You can remedy this on your own by bringing along extra towels, which you can then ball up and use as a pillow and as lumbar support. Your situation will also be somewhat improved if you opt instead to sit in a beach chair — all the more so if you opt for an ergonomic version, which will provide padding in all of the right places. Use a rolled-up towel behind your neck and one for your lower back.

Summer Footwear
All winter long you have happy feet and then summer hits and your feet are sore! This can happen for a variety of reasons. When we are in a closed shoe our foot is surrounded and supported with contact. When we go into sandals this is not the case. We have the tendency to grip to hold our sandals on which fatigues the feet and can shorten the plantar fascia, and contribute to heel or arch pain. The solution to this is to buy sandals with an ankle strap to help hold the footwear on.
• Sometimes the gripping can be alleviated by adding adhesive metatarsal support to the sandals. At Back to Health, I can place these metatarsal pads in the sandals.
• If you wear orthotics then try to purchase sandals that the beds in the bottom pull out to add your orthotics into the base of the sandal. I can give you names of stores to purchase these in – feel free to email me or ask next time you are in!
• You can also order custom orthotics fitted into the sandal directly.
• You can browse on www.FMXFootwearDirect.com to see if there are any you would be interested in.
• Ensure if you wear a heel lift you tape it in the sandal, use the clear packing tape, roll up 2 pieces and place them on the bottom.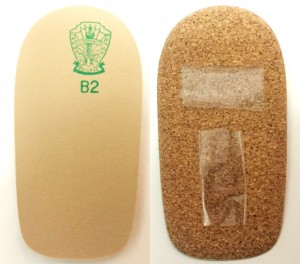 • If you walk to work you should wear your athletic shoes to and from, and switch into your sandals at work.
Feel free to email Dr. Rodwin at dr.rodwin@back2health4you.com if you would like a more customized option or summer sandal advice.