A study of 650 children, published in the Journal of Vertebral Subluxation Research (JVSR), revealed that spinal lesions called vertebral subluxations are associated with a variety of children's health complaints. The study looked at the relationship between subluxations and such disorders as scoliosis (spinal curvatures), spinal degeneration (arthritis), as well as a large number of common childhood conditions that science has been unable to find definitive causes for, including "growing pains," bed-wetting, colic, etc.
The research study was performed by Canadian chiropractors Dr. Ogi Ressel and Dr. Robert Rudy, who compiled data from 650 children over a five-year period. The study is the largest study of children under chiropractic care ever conducted. All children were examined and cared for by six doctors of the Patient First Chiropractic & Wellness Centre in Burlington, Ontario. All doctors possessed pediatric certification from the International Chiropractic Pediatric Association.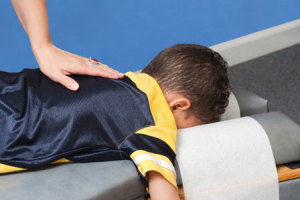 According to Dr. Ressel, spinal lesions — called vertebral subluxations — can interfere with the normal function of the nervous system, which is responsible for governing all body functions. Like static on a telephone line, they can scramble information sent by the nervous system, making it difficult or impossible for the body to function normally.
Vertebral subluxations can occur early in life, even during the birthing process. According to Ressel the body adapts to the subluxations and the abnormal functions become the norm, leading to spinal distortions, spinal degeneration, and a generalized state of unwellness seen in children.
"This is the largest study of children under chiropractic care that has ever been conducted," stated Dr. Matthew McCoy, editor of the Journal of Vertebral Subluxation Research. "This study provides further evidence of what has been proposed by other researchers both within and outside chiropractic – that these slight alterations of spinal alignment and motion have far reaching health consequences for our children."
Ressel feels that vertebral subluxations are the seeds of future disease processes and should be corrected as soon as possible. The researchers urged all parents to have their children checked by a chiropractor for the presence of vertebral subluxations before the damage progresses too far.
JVSR is a peer-reviewed scientific journal devoted to subluxation based chiropractic research affiliated with the World Chiropractic Alliance (WCA), an international organization representing doctors of chiropractic and promoting the traditional, drug-free and non-invasive form of chiropractic as a means of correcting vertebral subluxations that cause nerve interference.
The WCA is an NGO (Non-Governmental Organization) associated with the United Nations Department of Public Information. For more information, contact the WCA at 800-347-1011 or visit the WCA website at http://www.worldchiropracticalliance.org/
Copyright © 2000-2004 by the Journal of Vertebral Subluxation Research (JVSR)
All rights reserved as provided by U.S. copyright law. ISSN 1536-2027