---
Cork Heel Lift for leg length discrepancy or short leg
Do you have a leg length discrepancy or short leg? If you do read on, as you may require a cork heel lift to helping in resolving this issue!
When prescribed appropriately by your chiropractor, podiatrist or other healthcare practitioner, cork heel lifts can help reduce back, knee and hip pain by effectively lengthening a short leg and reducing the pressure on your joints and muscles.
Watch this video to learn more about heel lift and how they help with leg length issues, foot, knee, hip and back problems!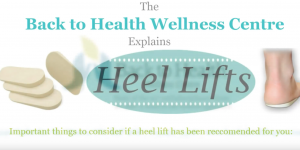 Achilles Issues? Heel lifts can help, learn more here!
---
SIZING CHART:
Letter = thickness
Number = width
HEIGHT:
A – 1/8″ or 3mm
B – 3/16″ or 5mm
C – 1/4″ or 7mm
D – 3/8″ or 9mm
WIDTH:
0 – Narrow
1 – normal
2 – wider
3 – Normally men's and athletic shoes, width for double BB/C
4 – Normally men's and athletic shoes, width for C-E widths
---
*Prices and product availability are subject to change without notice. All specials and promotions limited to stock on hand.
---