Choosing the Best Supplement to Take
With thousands of nutritional supplements available, choosing the best supplements to take can be nothing short of overwhelming. It's not only a question of the best supplements to take, but knowing how to identify which product is safest and most effective.

Nutrient Form: Read labels carefully to see what nutrient forms are included. These are listed in parentheses after the name of the nutrient. For some nutrients, there's no special form to look for. Any kind of Vitamin C, for example, synthetic or natural, is acceptable. Vitamin E and beta-carotene, however, are another story. For these two ingredients, the natural forms are definitely superior. Minerals also come in various forms. 
Elemental minerals, such as those found in soil, are not readily absorbed, so manufacturers bind them to amino acids or other substances that our bodies are able to take in. These are known as "chelated" minerals, and have names like magnesium succinate, calcium citrate, etc. Magnesium when purchasing you should look for the Glycinate form, it is easier to absorb! B-vitamins you should look for the active form, methylcobalamin and cyanocobalamin (non-active form)
Dosage Level: Once you've confirmed that a product has the right forms of the nutrients you're looking for, the next step is to make sure the product has enough of those nutrients to actually improve your health. Some products boast a wide range of really good ingredients. Yet when you look at their labels, the amount of each ingredient is so small that it couldn't possibly have a therapeutic effect! Know the recommended dosages for key nutrients before you go shopping so that you can better identify the best supplements to take.  


At Back to Health Wellness Centre, we are committed to provide patients with the best quality health care. In keeping with this commitment, we only carry nutritional supplements which meet the highest standards for quality assurance. 
Companies such as: Douglas, Pure, CanPrev, Genestra, Seroyal, Thorne and AOR (Advanced Orthomolecular Research) meet these high standards and their products are available to purchase at our clinic.

Reputable Manufacturers: Nutritional supplements are big business, and thousands of companies are in the market. Solid, reputable nutritional supplement manufacturers formulate supplements based on scientific research, buy the best raw materials and pay independent labs to make sure their products meet label claims and contain no contaminants.

Price: We're all looking to save money, but understand that price has some bearing on quality. Do not purchase dirt-cheap or mail-order brands without carefully studying labels and learning something about the company. Manufacturers of discount products have to save money somewhere, and they may do it by using inadequate dosages, improper nutrient forms or other cost-cutting measures.

Expiration Dates: Always look for an expiration date. While some nutrients, such as calcium and other minerals, maintain their potency for several years, others like vitamins B and C have a significantly shorter shelf life. 

Label Red Flags: Look for "red flags" on labels—sugar, artificial coloring and flavoring, preservatives, and additives such as shellac, chlorine and other chemicals should be avoided.

If you are unsure which nutritional supplement is best for you, please feel free to ask Dr. Barbara Rodwin.

Do you realize that some of the ingredients in many nutritional supplements are toxic and can actually because you harm?

"Excipients" in Vitamin Supplements
Excipients are substances other than the pharmacologically active ingredients which are included in the manufacturing process or are contained in a finished product. In many products, excipients make up the bulk of the total dosage form."

Additives in supplements cause allergic reactions, impede absorption of the active form of the supplement (they can decrease absorption by over 65%!), cause cell death, have undesirable physiological effects and can cause many other health issues.  In many cases, an ingredient carries a negative connotation, so the manufacturer uses instead, a euphemistically derived alternative (such as "glaze" or "natural vegetable coating" for shellac).



CanPrev          
CanPrev's in-house research and development team and scientific advisory panel are composed of licensed natural healthcare practitioners, process and quality control engineers and functional experts in natural ingredients and nutraceutical manufacturing. All raw materials are sourced from trusted Canadian ingredient suppliers with whom they work directly to select only the finest quality raw materials from the best sources around the world. The Research & Development team carefully reviews each ingredient and it is given a Certificate of Analysis to ensure that it meets exact specifications for identity, purity and potency. CanPrev products are manufactured to exacting Good Manufacturing Practices (GMP) standards, in site-licensed facilities utilizing the most modern nutraceutical processing equipment. Every step of the way, stringent quality control measures ensure that the purest and freshest finished product is delivered to their customers. All formulations contain the most biologically active forms of nutrients (methylcobalamin vs. cyanocobalamin) at therapeutic levels. None of their products contain binders and fillers. 

AOR (Advanced Orthomolecular Research) Advantage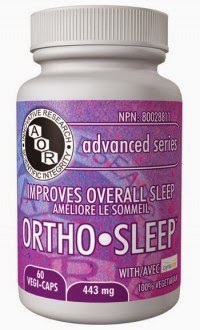 AOR is committed to researching the best that science and nature have to offer and has become a trusted leader in the natural health industry. By delivering the 'right amount of the right ingredients to the right place at the right time,' AOR offers a unique and truly orthomolecular approach to safe, effective and personalized nutrition for the future. Sourcing the right ingredients can sometimes be difficult, but AOR will not settle for less than the best. Every ingredient is third party-tested to ensure purity, safety and effectiveness. Each formula is meticulously quality controlled. AOR's self-imposed standards are higher than any government-imposed standards or industry norms. When it comes to ensuring quality, it is often the most trivial of matters that matters the most, and this makes the AOR difference. AOR uses the most active forms of ingredients whenever possible in supplement formulations, and the high quality ingredients included in each formula are always dosed according to clinical research. AOR has become an innovative leader in the natural health industry because it delivers safe and effective health supplements of exceptional quality.

Genestra and Seroyal
Genestra/Seroyal ensures excellence through heavy investment and commitment to stringent Quality Assurance. The UNDA, GENESTRA BRANDS™, Pharmax and Wobenzym brands go above and beyond to ensure the highest quality dietary supplements, imposing rigorous manufacturing standards from start to finish. From the raw materials used for manufacturing of the products, to the preparation, bottling and storage, the Seroyal Quality Assurance team ensures stringent process adherence. All Seroyal dietary supplements are compliant with FDA and Health Canada Good Manufacturing Process (GMP) requirements.  Genestra/Seroyal is also NSF certified. Facilities include various ISO (International Organization for Standardization) accreditations – the global manufacturing standards that ensure quality, environmental friendliness, safety and reliability. 

Thorne
Thorne knows the purity of a supplement's raw ingredients makes the difference between an effective, well-tolerated product and an inferior, poorly absorbed one that may even cause allergenic reactions. This company's commitment to using the purest ingredients possible is nothing short of obsessive. Thorne Research, for more than 25 years, has been the standard by which companies in the industry are judged for product purity. Practitioners rely on Thorne as the company they trust for their extremely allergic, chemically sensitive, and immune-compromised patients.