Our clinic has re-opened as of Thursday, May 28th, 2020!
Our team at Back to Health Wellness Centre would like to take this opportunity to wish all patients wellness during this difficult time and to let you know we are here for you!
Please Call, Text: 613-237-3306 | Book online: https://backtohealthwellnesscentre.janeapp.com
| Email: reception@back2health4you.com
In light of the current Coronavirus outbreak season:  If you think you may have been exposed through travel, close contact to an infected individual or if you are experiencing a fever, cough or difficulty breathing, please contact us to reschedule your appointment. Thank you for your understanding.
Immune Defensive Weapons and Stay-Well Strategies are: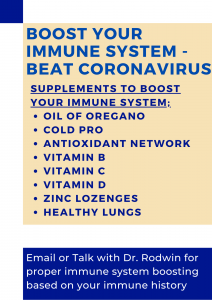 All are 15 % off!
Supplements to Boost Your Immune System: we have many anti-viral, immune system boosting supplements at the clinic to aid with your health.
A) Dr. Rodwin is offering complimentary phone consultations to understand what you should be taking: call or text her at: 613-794-8763 or email: dr.rodwin@back2health4you.com
B) These supplements are 15% off during this period; we offer free shipping or drop off to you if you are self-quarantined.
C) The list is below….
2. Sleep: Do not skimp on it. Maintain a normal sleep schedule, even though you will want to stay up late and sleep in!
3. Stress: Manage it by taking some time to take it easy.
4. Walk: everything is closed for working out, get out for walks in the fresh air which will boost the immune system.
5. Studies have shown that Chiropractic Stimulates the Nervous System and that Chiropractic is your Natural Flu and Cold Fighter.
6. Studies have shown that Massage is great for specific conditions, reducing stress and increasing relaxation, and providing much needed therapy!
If you do not want to come into the clinic before your appointment time: You can Text or Call the Clinic when you arrive at the building. We will let you know what treatment room to go to so that you do not have to wait in front reception.
The Number is: 613-237-3306
Our team wants to assure you that the health and safety of our staff and patients is our primary concern. We have always taken pride in the cleanliness of our clinic and are taking extra precautions during this time to minimize the spread of germs.
The Extra measures are: The wearing of N95 masks. Staggering appointment times: We are ensuring when patients book that there are not many at the clinic at the same time, as well if you are over the age of 65 we are booking these patients during different times so that they avoid coming in contact with other patients or offering home based treatments if required, Waiving cancellation fee: We know how important your health is to you and we will be waiving the last minute cancellation fee, to help during this time. Our request is if you need to cancel please provide as much notice as possible and think about times that the appointment can be re-scheduled to,  Sanitizer dispensers: throughout the clinic, Washing of your hands at the clinic: Sink in the hall is setup for patients to wash their hands. The sink is located to the right of room 5,  Increased cleaning of touch points: doorknobs, door handles, payment terminal, treatment tables, removal of all magazines, Chairs in front reception are spaced further apart, and we are not using Clipboards for the time being,
All of the Back to Health team has decided to forego their travel until after May 2020.
——————
Dr. Rodwin will be treating at her Home Based West End Clinic to aid with your treatment and limit patient contact!
If you are looking for treatment from the other Health Care Providers please contact us to make arrangements.
Location of Home based practice: 26 Crystal Beach Drive, Nepean, (Moodie at Carling)
Downtown Location: 240 Catherine St., Suite 100 Ottawa, ON K2P 2G8
To book: Call or text: 613-237-3306, Email: reception@back2health4you.com or Book online: https://backtohealthwellnesscentre.janeapp.com/
Treatment Hours Are:
Monday: 4pm-6pm
Tuesday: 8 am-9:15am
Wednesday: 6 pm-7:30 pm
Friday: 6 pm-7:30 pm
Saturday: 10 am-11:30 am
Sunday: 10 am-11:30 am and 4:30-6 pm
——————–
"Dr. Barbara Rodwin helped me immensely with my immune system! She asked me a series of questions; I filled out an immune system history and 3-day plan.
She then from this worked on a food, supplement regime and I have not had a cold, flu or problem with my immune system in over 5 years!!!!
I cannot speak enough about how she has helped me with even when I travel, I do not catch anything based on my immune regime!!!"
Karen V.
—————————-
Resources Facts:
The first COVID-19 Assessment Centre is open, make use of it if you: have a new or worsening cough and/or fever, In the past 14 days have either travelled outside of Canada or been in contact with someone who has been diagnosed with COVID-19.
Patients who meet the criteria above will be tested for COVID-19, which involves taking a sample from the throat or nose with a swab.
COVID-19 Testing Centre: Brewer Park Arena, 151 Brewer Way, Accessed from Bronson Avenue opposite Carleton University, Open 9 a.m. to 8 p.m. daily
Online COVID-19 self-assessment tool: https://myhealth.alberta.ca/journey/covid-19/Pages/COVID-Self-Assessment.aspx
Ottawa Self-Assessment: https://www.ontario.ca/page/2019-novel-coronavirus
Ottawa Public Health:  https://www.ottawapublichealth.ca/en/public-health-topics/novel-coronavirus.aspx
Government of Canada novel coronavirus information line: 1-833-784-0000, Canada.ca/coronavirus
Ontario Public Health Authority: 1-866-797-0000
Informative Video about coronavirus facts: https://www.youtube.com/watch?v=kIL5m5XznNY&feature=youtu.be
Public Health Ontario: https://www.publichealthontario.ca/
Public Health Agency of Canada: https://www.canada.ca/en/public-health/services/diseases/2019-novel-coronavirus-infection.html